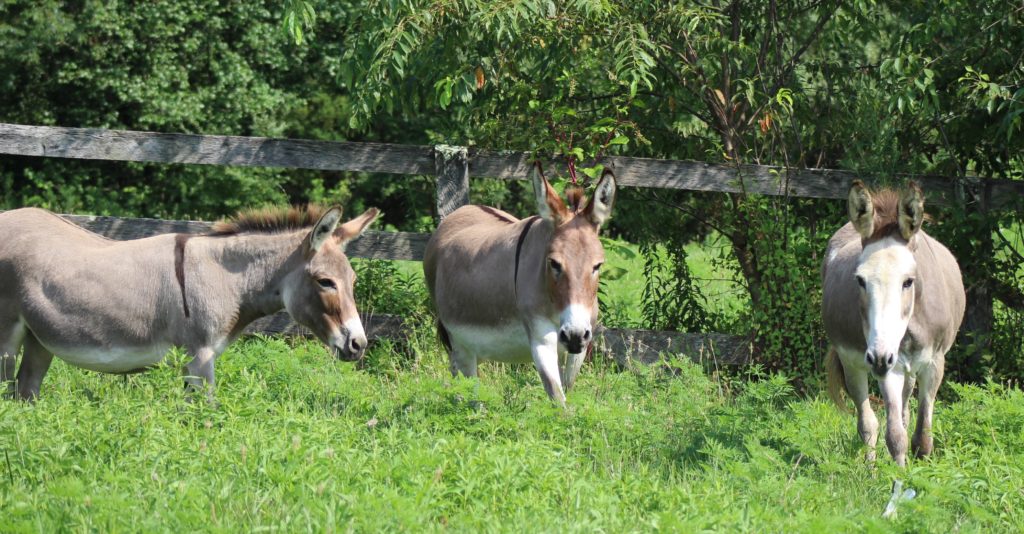 Crystal (L), Ruby (C) and Opal (R) were rescued from the New Holland, PA auction on New Year's Eve 2018. Our friends at Gentle Giants Draft Horse Rescue alerted us to their plight. We named them Opal, Ruby, and Crystal, because each of these girls is a precious gem. They are sweet, gentle and kind, and certainly never deserved the neglect they suffered prior to the auction.
Opal was dangerously thin. When we put our hands on her, we could literally feel each and every bone! Ruby obviously came with her, because they were stuck together like glue. Ruby wasn't quite as thin, but still needed some groceries. Both girls had mud scald on their legs, which is excruciating, and also had very painful dermatitis/scabs on their noses and ears. The smallest jenny, Crystal, was in the best condition with a good weight. It's hard to understand why anyone would dump any donkey at an auction, but when they are healthy, it's even harder to understand.  All three of these girls had terrible feet. Although their hoof condition was not as extreme as some of the worst cases we've seen, all had long, disfigured hooves and showed obvious signs of founder or laminitis.
Opal, Ruby, and Crystal now are doing great, secure in the capable, caring hands of one of our foster moms.  Their foster mom's attentiveness paid dividends for Opal, who developed an infected salivary gland about a year after their rescue.  Thanks to their foster mom's quick action, we were able to rush Opal to Virginia Tech's Marion duPont Scott Equine Medical Center in Leesburg, VA for treatment. She recovered nicely, and all 3 jennies are doing well.