Have you thought about sponsoring a donkey?
Most of our donkeys will reside at the rescue in sanctuary for the rest of their lives.  Some were born here and are happily living with their mothers, many are older donkeys requiring more specialized care, and some others may have training or psychological issues that require expert handling and training. They are happy and secure here, and we do everything possible to ensure they have a wonderful life. 
When you sponsor a donkey with your monthly gift, you help us provide and budget for not only their basic everyday needs, but also for the unexpected.  By having multiple sponsors for our donkeys, you help us cover our daily expenses for them so that we are prepared for the unexpected.  Listed below are some of our residents available for sponsorship.
There are 3 levels of sponsorship which coincide with the three sizes of donkeys: mini, standard and mammoth. At all sponsorship levels, donors receive a sponsorship certificate and a card with the donkey's picture and biography.  Monthly sponsors are also welcome to come visit their sponsored donkey (please email us with any visit requests and let us know which donkey you are sponsoring).
Mini ($25 monthly)
The "mini" level provides hay for your sponsored donkey.
Standard ($50 monthly)
The "standard" level provides hay and bedding for your sponsored donkey.
Mammoth ($100 monthly)
The "mammoth" level provides hay, shavings, a hoof trim, and some basic veterinary care for your sponsored donkey.
Scroll through the donkeys and see which special donkey you would like to sponsor today!
  **It is important to note that your contribution not only provides for your sponsored donkey, but it also goes into a general fund to help care for all of their friends here at the rescue. **
If you are looking for a one time gift for someone, consider a virtual adoption
---
Stella and Xena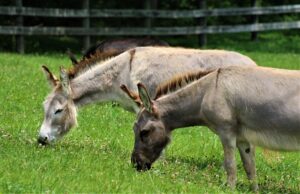 We discovered Stella, ~17 years old,  at a notorious local livestock auction in 2016.  She and another donkey were starving, frightened, and full of rain rot.  We decided to bid on them and were successful in getting both of them.  Later in the auction, a young, terrified little donkey hobbled into the auction ring with a very damaged leg. We were the only bidders for this poor donkey and so she became ours.  We soon learned that she was the daughter of Stella, Xena ~ 7 years old, and was still nursing!  Somehow, they had been separated and we never saw her, or knew they were family!  Her leg wound was debilitating and causing her tremendous pain. We took them directly to the vet on our way home from the auction and learned that Xena had wire deeply embedded around her leg resulting in tissue and bone damage.  She required surgery and months of daily bandage changes.  Her courage and determination earned her the strong name Xena.  We discovered that Stella was pregnant, and 11 months later, she gave birth to a beautiful baby boy we named Duncan.  This close knit family loves one another tremendously, and we will never split them up!
---
Bonnie and Clyde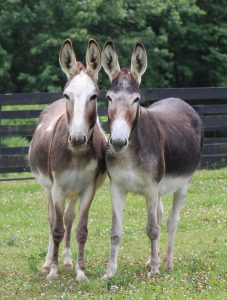 Bonnie and Clyde were just babies – about 5 months old – in February 2016 when they were rescued from an auction on their way to a kill pen. These babies were very thin and cold, and were completely covered in burrs, tangled and matted in their winter coats. They were very frightened, and – not surprisingly – clung to each other for comfort.  These two have grown up together just like brother and sister. Deeply bonded, they are never more than a few feet from each other. It took some time, but Bonnie and Clyde learned to trust people, and now they absolutely love attention. They are favorites of the many visitors who meet them.
---
Piper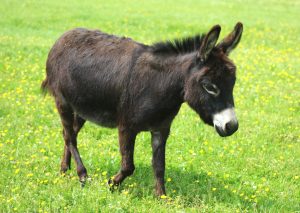 Piper is one of the luckiest donkeys. She was born here at the rescue on Sept. 12, 2017.  She has never known the type of abuse and neglect that her mother, Gracie, did.  She was born only two months after we rescued Gracie, and — given that Gracie was starving and in terrible condition— it's almost miraculous that Piper was born healthy and sound. She is a tiny little thing, and absolutely full of herself!  She's super confident and not the least bit worried that she's the smallest donkey in the herd. 
Piper has an adorable curl at the end of her tail, which she happily presents to you while she asks to have her butt scratched!  Piper is a happy and friendly donkey without a care in the world, and we intend for the rest of her life to be just as carefree.
---
Bruiser

Bruiser was approximately 18 years old when we rescued him from a terrible livestock auction in February 2016. He was terrified, extremely malnourished and very sick with pneumonia. He has been through a lot in his life, and has the scars and wounds to prove it. He was missing a big chunk of one ear and had an eye so badly damaged that our vet determined it needed to be removed.  Bruiser's wounds and injuries healed, and he learned to function just fine with one eye.  Barely recognizable from the donkey we rescued, Bruiser is sweet and kind, and has a calming presence about him.  But he can also be very playful,  and really enjoys playing with other donkeys in his senior herd.  Around the rescue, he is known as "the sexiest donkey alive" because he is so incredibly handsome!  
---
Brighty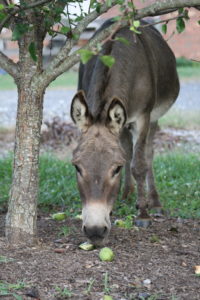 Brighty, ~ 21 years old,  lived in horrible conditions at a farm where the owner neglected all his equines.  The animals lacked food and water, but smart little Brighty figured out how to escape to find grass and water throughout his neighborhood.  A good Samaritan neighbor finally convinced the owner to sell Brighty to her, and she then brought Brighty to our rescue in 2014.  He was frightened, hadn't had any hoof care and wasn't gelded.  Brighty today is as sweet as can be, an absolute gem who gets along with all the other donkeys.  He is, however, a bit suspicious with new people.  Because he knows and trusts us, we can do just about anything with him, but he does get nervous when anyone new tries to work with him.  We want Brighty to feel safe for the rest of his life and not have to endure any more change, so he gets to stay here in sanctuary. 
---
Dolly and Bessie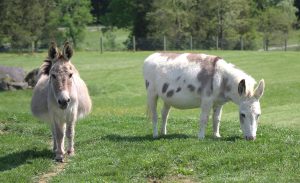 Friendly and inquisitive, Bessie and Dolly are two of the sweetest, most easy-going donkeys you could meet. They were two of the very first donkeys rescued by Little Longears in late 2014.  Sadly, they came to us after experiencing the indignity and brutality of a livestock auction. We'll never know why or how these kind and gentle donkeys ended up at an auction, but they will never know that misfortune again. They love being up in the barn where all the action is, and never let us forget when it's feeding time! Their brays are as unique as they are, and we always know when they are ready to eat! They are truly living their best lives at Little Longears in their golden years, and they absolutely deserve the very best!
---
Daniel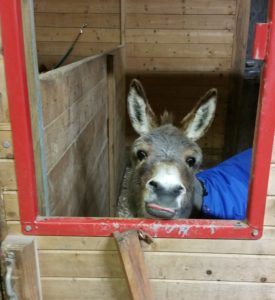 Daniel, ~26 years old,  arrived at our rescue from a terrible neglect situation in 2015.  He was timid, beat up and scarred from fighting with intact (not gelded) mules.  Daniel wasn't gelded, either, which increased his frustration with and aggression towards the other equines.  His hooves, which had never been trimmed, were in awful condition.   Several years later, and after getting gelded, he is one of the sweetest, easiest-going boys here!  He has a wonderful personality, and a cute trick of sticking out his tongue when he wants a treat.  Daniel, always a favorite among visitors, will enjoy his golden years at our rescue.
---
Daisy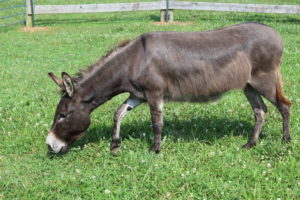 Daisy, ~ 20 years old, was surrendered (along with her younger buddy) in 2018 because her owners' health issues meant they were unable to continue to care for both donkeys.  She was well cared for except for some dental issues that were not resolved, which caused her incredible difficulty eating.  Our equine dentist has worked on her several times.  Daisy finally is chewing much better, but she still needs softened feed and hay pellets to supplement her diet to ensure she does get enough to eat.  In 2019, she started showing signs of a diseased eye.  After months of treatment, and consultations with our veterinarian and an equine ophthalmologist, it was determined that removing her eye would provide her the most long-term comfort.  Daisy had the surgery in May 2019 and is thriving now!  It is clear that the diseased eye was really bothering her and causing her pain, because her personality has blossomed since she's recovered from the eye removal surgery.  Daisy has adjusted very well and appears to be happier than ever.
---
Gabe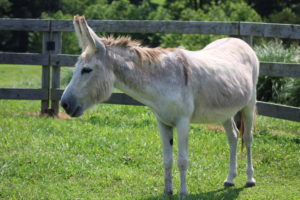 When we rescued Gabe, ~24 years old, from a livestock auction in the summer of 2016, he was in terrible shape, neglected in every way.  Once he arrived at Little Longears, he seemed lost and sad.  Gabe desperately wanted to come into the barn and just hang out in a stall.  But, despite his condition when we found him, he must have been a treasured donkey at some point in his life: he is sweet and is comfortable being handled, and he has such good manners.  Someone once loved and trained him.  We will never know what his story was before we rescued him, or how or why he ended up at an auction, but he is safe and loved here.  This sweet boy now has lots of donkey friends, in particular a little guy named Alex.   We've promised Gabe that he will never, ever end up at another auction again. 
---
Manny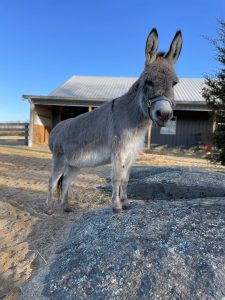 Manny came to us in Summer 2019 in his early 20's as an orphan who had grown up virtually alone.  Without the company of other donkeys, he developed some severe behavioral and anxiety issues.  Unfortunately his behavior problems and anxiety levels grew so high that his owners did the responsible thing:  they surrendered him to us.  Manny is still a work in progress, but he's made great strides with the help of patient staff.  As he has gained confidence living here, his mischievous personality keeps us laughing every day!
---
Gracie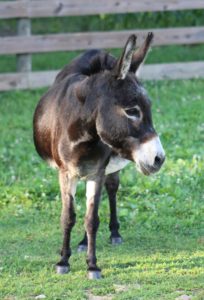 Carroll County Animal Control called us in June 2017 to assist in the seizure of an emaciated and neglected donkey, the only donkey among 20 equines living in deplorable conditions. (Another rescue took the horses.)  This adorable little jenny, ~21 years old, was living in a gross, dark stall with no bedding, just deep manure; no hay or other food, and disgusting water.  She was extremely thin and infested with lice; bald spots covered her body where she had rubbed off her hair as she sought relief from the itching.  Less than 3 months later, Gracie gave birth to a little jenny, Piper.  Gracie's lice infestation, poor body condition, damaged hooves and teeth were addressed promptly, but recovery from severe physical neglect takes time.  Recovery from emotional neglect can take even longer; although Gracie trusts us now, she still is nervous, and she is wary of many humans.  Because this brave jenny already has endured so much, we don't want to put her through any more changes.  Gracie will remain in sanctuary at our rescue with the people who know her best, and whom she trusts.
---
Jack and Jill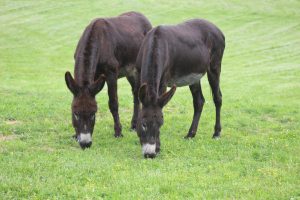 Twin donkeys are very rare — in fact, only 2% of them are born as twins, and of those, very few survive after birth. That's why Jack and Jill, our resident twins, are so special. They were surrendered to Little Longears by loving owners who could no longer care for them.  These two are always found together, seemingly thinking as one unit sometimes. They are calm and quiet, with an almost "wise" air about them.  They've adapted well to their larger donkey family here and will enjoy the rest of their lives surrounded by friends.
---
Matt and Jeff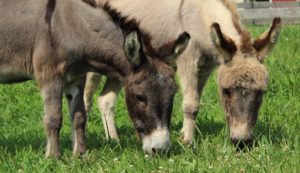 Matt and Jeff, ~32 years old,  were surrendered by their owners, who were older and having trouble caring for them, in 2018.  Both boys were suffering from health issues largely due to their inability to eat well.  Their teeth were a disaster, in desperate need of attention.  Their teeth were long and sharp, and eating was very painful for both donkeys.  Shortly after their arrival, Jeff started showing signs of liver failure.  We rushed both to the hospital, where Jeff was treated for 3 weeks with intensive care.  Despite a very grave diagnosis when he arrived at the hospital, Jeff pulled through and made a miraculous recovery!  These two best friends are feeling so much better.  With teeth no longer painful, and other health issues resolved, Matt and Jeff should have many more golden years to enjoy life at our rescue.
---
The Mammoth Donkeys – Sarge, Marshall and Trooper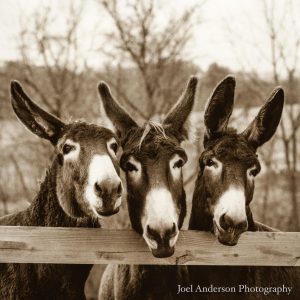 In July 2016, we passed by a pasture in PA with 5 big donkeys that desperately needed help.  Their feet were terribly overgrown, and their coats were matted messes. We reported their condition to a local animal control agency, and shortly after, these Mammoth donkeys were seized due to neglect. A few months later, the agency reached out and asked if we could take some of them into our care.  Marshall, Sarge and Trooper arrived first, followed soon after by an "older gentleman," Big Clyde.  Sadly, we lost Big Clyde early in 2023, but he had 5 wonderful years with us.   
The Mammoths are big, gentle giants and are a beautiful, unique addition to Little Longears. Mammoth donkeys are like the draft horses of the donkey world: gentle, kind, slow and lovable. These donkeys are considered a heritage breed, and the relatively small population of these magnificent donkeys makes their conservation essential.
---
Rosie, Rocky and Randy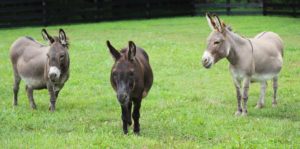 Rosie and Rocky, ~24 years old, together with their son Randy, ~ 16 years old, were surrendered in May 2019 by responsible owners who could no longer take care of them. Many people find they are in danger of being outlived by their donkeys, and seek a long-term solution for their donkeys' ongoing care. This little family falls into that category. The personalities of all three donkeys reflect their prior home: they are friendly, outgoing and charming. Randy is especially close with his mother, Rosie, and we'll make sure that they are never separated. This wonderful senior family will live out their lives in sanctuary at Little Longears.