It's time for
Dinner with the Donkeys
– everyone's favorite event!
And this year it's really special, because it marks our 10th anniversary of saving lives!
We've scheduled our Annual Dinner with the Donkeys on October 7, 2023.  It's always a fun evening where you'll enjoy a delicious dinner and get to mingle with all your favorite donkeys (and meet some new favorites).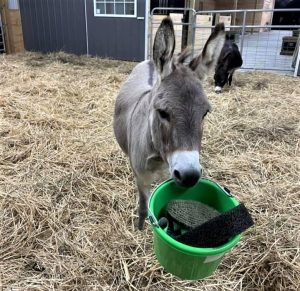 Dinner will be catered, and includes appetizers, dinner, dessert, and beverages, including beer and wine.  We will have a special video to celebrate Little Longears' TEN years of rescue! (Did we mention 10?)
If you can't make it to the dinner but want to support the donkeys, please consider making a donation or purchasing something for the donkeys from our Amazon or Chewy wish lists.
This is our most important – and most fun! — fundraiser, and all proceeds go directly to the care of the donkeys.
Please note: this is an adults-only event.
We have scheduled our 2023 Donkey Visits!  Details are on the Want to Visit page.
Just because you can't be here in person is no reason to miss out on a visit! We thought our friends and supporters might enjoy spending a little time with some of the donkeys.
Watch our 2020 video, Virtual Visit with the Donkeys, for some virtual donkey love!
——————————————————————————————————
Little Longears hosts annual events to help raise funds and to give our friends and followers an opportunity to hang with the donkeys!