Welcome to Little Longears Miniature Donkey Rescue.
We are a Registered 501(c)(3) non-profit charity dedicated to the rescue, rehabilitation and safe sanctuary of abused, neglected or otherwise unwanted donkeys.  We also provide a safe haven for owners to surrender their donkeys in the event they are no longer able to care for them.
We started this rescue in November of 2013, after buying a couple of donkeys the year before, to keep our retired show horses company.  We were told that these donkeys had been rescued from an auction.  We were completely unaware of these auctions, and the plight of unwanted donkeys everywhere.  After educating ourselves a bit more, we discovered that there were very few donkey rescues in this country.  Though the need is great, resources for donkeys are in short supply.
We took a leap of faith, and decided that we had everything we needed to be able to help donkeys.  Originally, we started out rescuing only miniature donkeys, but the rescue has grown in every way, including the size of donkeys that we have helped.  Though we do try to work primarily with miniatures, we always seem to have some standard donkeys here, and most recently, we took in a few mammoth donkeys (the draft horse of donkeys!).
Our donkeys come from all sorts of places.  Many are surrendered to us by owners (owner surrender) who are either unable or unwilling to care for them any longer  Many more come from auctions.  We also work with other local animal control, and SPCA agencies to take in donkeys that they need assistance with.
A little bit about the founders of Little Longears

Valerie Lowe shares how she went from being an A-circuit hunter/jumper trainer, showing, riding, teaching, and running her own business, to becoming the co-founder and director of Little Longears Miniature Donkey Rescue.   Since Val has the lifetime background with horses, Cheryl continually teases her that "donkeys are the smartest member of the equine family".  The debate continues…
Read about Little Longear's Val Lowe in the August 2016 issue of Practical Horseman.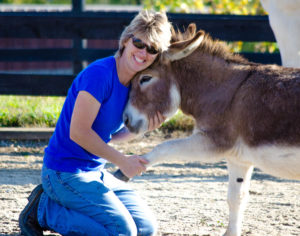 Cheryl Pokorny is a retired high school PE teacher, and loves all things DIY.  Her home renovation skills even landed her on HGTV's "All American Handyman" in 2011.
For a gift to yourself or others, check out the merchandise at the Little Longears Store!
Donkeys'  Wish List!
The Dodo followed up on Josie, Jenny & Moses and made this video to show you how far they have come!
The Dodo visited Little Longears and made this awesome video !