After searching for nearly 2 years, Cheryl and Val found and purchased a new property in southern Pennsylvania for the rescue to call home.
Located in New Oxford, PA on 100 acres, Little Longears Miniature Donkey Rescue is a paradise for donkeys! 
The main barn serves as the Rescue's headquarters. It contains our visitor center, business office, feed and medical treatment room, grooming area and wash bay. This barn also houses our senior donkeys.  These older donkeys, who often need medical attention, specially prepared meals and extra TLC, are at the center of all the activity at the Rescue.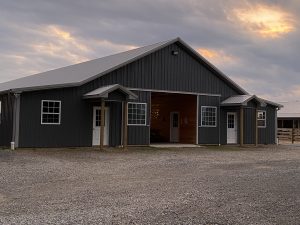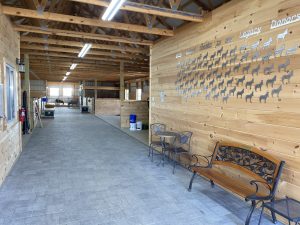 The heated treatment room in the main barn provides a warm place for our veterinarians to treat the donkeys and perform some procedures during the winter.
There are four more large barns that house various groups of donkeys, ponies and mules.  Each barn is big and open, bedded down with straw, and has giant fans to help keep the donkeys cool in the summer.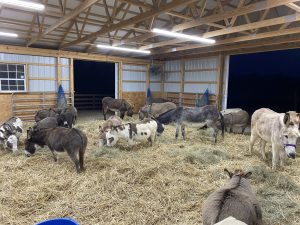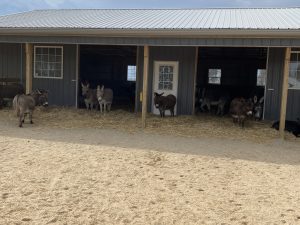 Every barn is surrounded by large, sandy paddocks for the donkeys to play and run in, while keeping them safe and close to their barns.  The sandy paddocks emulate the desert environment in which donkeys evolved. Adjoining every paddock are large, grassy pastures for the donkeys to spend some time grazing and playing. (Note that their time on grass is strictly monitored in order to keep them healthy.)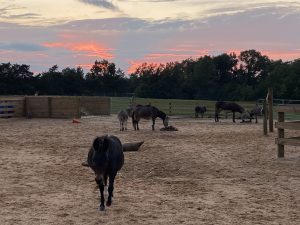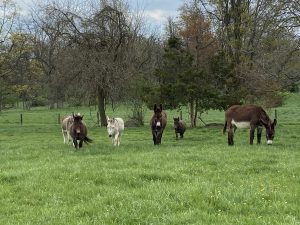 There is also a large outdoor arena used for training and enrichment for all the animals. 
A quarantine barn with adjoining paddock and pasture is located just far enough away to keep all the resident donkeys safe from any potential sickness that a new donkey may bring in. 
Here's a video of moving day from the old farm: