June 2021 Update
The donkeys are IN THE HOUSE!
Yes! On June 1st, 2021, the Little Longears donkeys, mules and ponies arrived at their new home.
This new farm is made possible because of you – our friends, staff, volunteers, supporters and donors – and we hope you enjoy following the donkeys' journey home.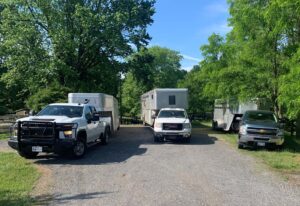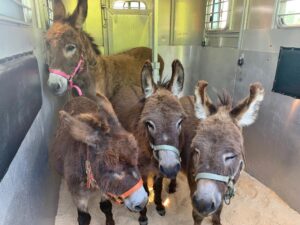 We are so grateful for the assistance provided by our farrier, Donnie Lentzner, and by fellow donkey rescues, The Farmette and Peaceful Valley Donkey Rescue – Eastern States' Regional Office. They shared their trailers, staff and – perhaps most importantly – their time to help move more than 60 donkeys from our old farm in Maryland to the new farm in Pennsylvania.
Each group was unloaded separately into its own paddock area and attached barn. The barns were well-stocked with fresh straw, hay and water, just waiting to welcome them home.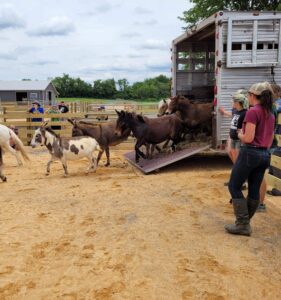 Donkeys, ponies and mules lost no time investigating one of their paddocks.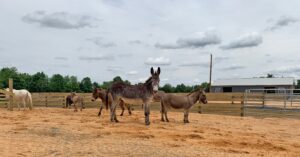 Exiting their trailer proved to be quite a lot of fun for the minis!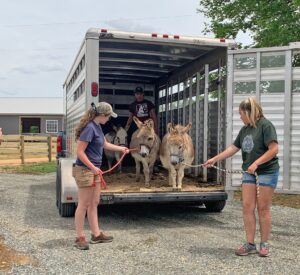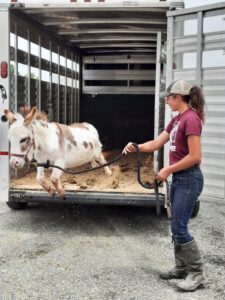 The jennies also immediately started exploring their paddock and barn.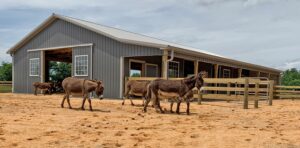 Not to mention taking a roll in the sand!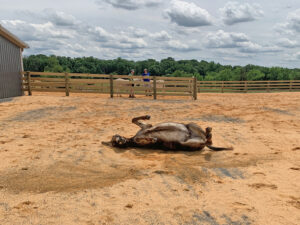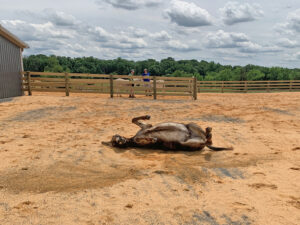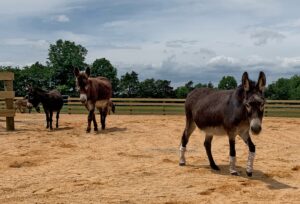 As you can see, we created extensive dry paddocks (also called dry lots). These paddocks are important to help recreate the desert environment most suitable for donkeys. Although some donkeys can handle a grassy pasture, most donkeys cannot manage such nutrient-rich, sugary green grass. We strictly limit how much time the donkeys spend out on the grass.
But we have to admit, the pastures make a scenic backdrop! Here are some jennies enjoying the trees and shade.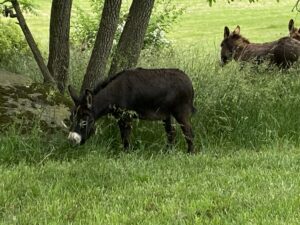 All the donkeys are settling in.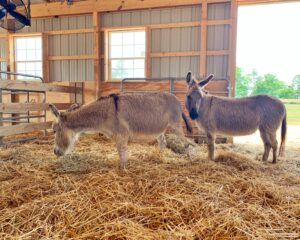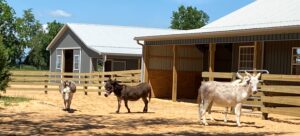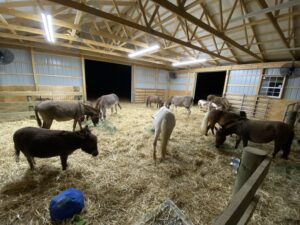 The mammoths are loving their new barn, paddock and pasture, stretching their legs and roaming over the gently rolling field. The terrain of this farm is much easier on the damaged legs and hooves of old guys like Big Clyde, below. (Our old farm is lovely and served the donkeys well, but it is fairly hilly.)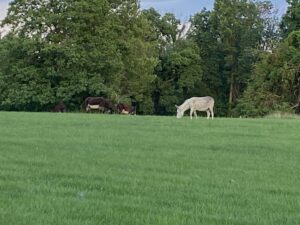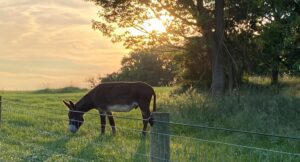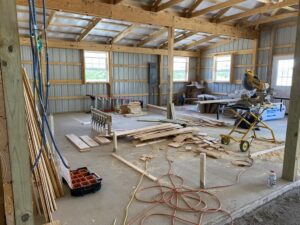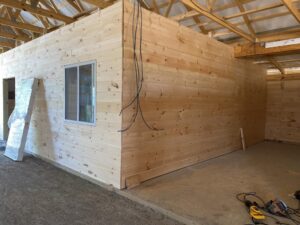 Are we done?
Is the new farm finished?
Are we rolling out the red carpet?
Not yet! We wish!
Although the donkeys' quarters – the barns, paddocks and pastures – were ready for occupancy, much remains to be done, especially in the Main Barn.
You can still help finish the barn!
A visitor area, laundry and bathroom facilities, a treatment room for sick donkeys, a feed and tack room, and staff areas are under construction, but (as you can see) they are still works-in-progress. The long center aisle in the Main Barn awaits its pavers. A few additional stalls need to be finished.
One of the final installations will be the Legacy Wall on which to display special plaques honoring those who generously gave at least $1000 in a single donation to the new farm. Each plaque will be engraved with the donor's name or the name of their honoree.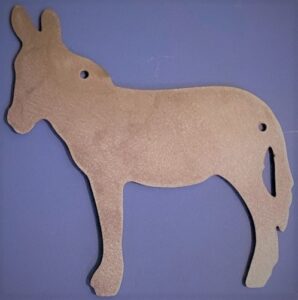 2020 and 2021 have seen the tragedy of COVID-19, shut-downs, lost incomes, reduced staffing, social distancing, and limited availability of materials, accompanied by skyrocketing prices and an ever-expanding budget. What a time in which to build a new farm! Our donors, friends, volunteers, staff and supporters have all played a huge role in making this new farm happen.
We are incredibly grateful to our donors. The final product is everything we hoped it would be.
Please accept our thanks for your amazing support, which has taken the new farm from dream to plan to reality. We truly could not have done this without you. Thank you.