Carroll County Animal Control called us in June 2017 to assist in the seizure of an emaciated and neglected donkey, the only donkey among 20 equines living in deplorable conditions. We found an adorable little jenny living in a gross, dark stall with no bedding, just deep manure. She had no hay and disgusting water.  She was extremely thin and infested with lice, with bald spots all over her body from where she had rubbed off the hair as she desperately tried to relieve the itching caused by the lice. Donkeys are "easy keepers," meaning that they can get fat very easily. It takes a LOT of neglect to get a donkey this skinny. 
This donkey was part of a very large seizure, where nearly 20 horses were seized and put into the care of another rescue.  The vet accompanying the animal control officers estimate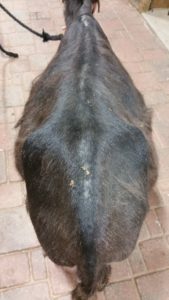 d her age to be about 18 years old.
We named her Gracie.  We immediately had her hooves trimmed and began working on her general health and nutrition. She was de-wormed, had a medicated bath, and soon was lice-free! When we evaluated her skinny little body, we could see that despite the starvation, she had a very large belly…  and we realized that she might be pregnant.  A simple test from the vet confirmed our supposition, and gave even more urgency to our zeal to nourish and care for Gracie.
On September 12, 2017, Gracie  gave birth to a perfect little girl we named Piper. Given Gracie's body condition and total lack of prenatal care, it seemed almost miraculous that she gave birth to a healthy foal. Piper is a tiny little thing, completely healthy, and absolutely full of personality! We thought we were saving one donkey, but instead, we saved two.